About Us
Opal Dental Clinic In Turkey
To be the first dental center that offers the best integrated dental care and achieves the best therapeutic, surgical and cosmetic results for clients in Turkey and around the world.
As one team, we seek, with our integrated professional staff, to provide a variety of innovative solutions for oral and dental treatment, cosmetics and surgery. It must be with the highest quality and the best method, in a safe environment dominated by friendliness and love.
Professionalism

Quality and efficiency

Continuous Improvement

Integrity in performance

Initiative interest
Opal Dental Clinics in Turkey is a medical group specialized in the treatment and cosmetic dentistry and oral and maxillofacial surgery with the latest modern medicine techniques, and in the hands of the most skilled and experienced doctors; to ensure the best results.
About us | About Opal Dental Clinics
We also offer all support services to our customers from outside Turkey. Starting from booking the hotel and airline tickets, passing through the reception from the airport, and providing a medical interpreter during the treatment period, to follow-up after returning to the country.
Our Goals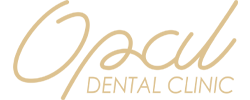 Commitment to the values and principles that we take as our motto when providing our medical services and other supportive services.

Obtaining customer satisfaction by providing the best professional services for a competitive price that is not comparable to the price of the same service in European countries.

Providing all the resources and the best competencies that will enable patients to have a treatment experience that exceeds their expectations.

Applying the best treatment techniques in the field of dentistry in accordance with international standards.

Training and developing our staff on an ongoing basis; Doctors, nursing staff and administrators.
Social Responsibility
Believing in our social responsibility and our role in educating the public; We publish medical materials related to oral and dental medicine, including research, periodicals, and the latest treatments related to orthodontics, cosmetic treatment, and dental implants.
We also highlight some cases that underwent plastic surgery, implants, or orthodontics, which reveal the impact of the therapeutic techniques that we use in Opal clinics after application and treatment.
Our Services
In Opal Dental Clinics, we seek to assist our clients with transparency, integrity, and the most effective way in obtaining the best medical service, along with the highest level of health care and other support services.